Saturday, September 23rd, 2023
6:30 pm – 8:30 pm
Southampton, New York
A popular Southampton restaurant Blu Mar (136 Main St.) will hold an exciting multimedia fundraiser for the people of Ukraine organized by entrepreneur and a television personality Zach Erdem, a sculptural painter, creating three dimensional work with gel medium and acrylic paint, Julia Beynenson, and an emerging artist and indie film actress Sasha Odesa (formerly known as Sasha K. Gordon) the works of four Ukrainian artists for sale: Miroslav Duzinkevych; Julia Beynenson, Nataliya Pinchuk, Roman Lystvak and Sasha Odesa. There will be a $20 donation at the door. Part of the proceeds from the art sales is going to Universal Aid for Children, a 501(c)(3) nonprofit organization dedicated to fulfilling medical, educational and emotional needs of refugees, orphans, orphanage graduates, and people with disabilities in Ukraine as well as the Ukraine Immigration Task Force, a nonprofit organization that helps Ukrainians fleeing the war to find refuge in the United States, aiding newcomers with social services, resettlement assistance, and social advocacy.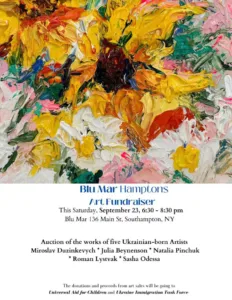 Friday, October 20
Friday, November 3
Friday, December 1
HIAS TPS/Parole based EAD clinics
Ukrainians who need assistance with registering for TPS or filing for employment authorization (either through TPS or humanitarian parole) may sign up.